Online tools can help you improve your content quality, so we'll discuss Paraphraser.io vs Editpad.org. Both tools allow you to create high-quality content that is reader-friendly.
This article will compare the two most used and popular online tools used worldwide. So, without further ado, let's get into it.
Parapraser.io:
Paraphraser.io has been working as one of the best online tools. Apart from that, it also provides features of removing plagiarism, article rewriting, and paraphrasing for your content.
It is pretty easy to use when it comes to performing paraphrasing. One can access it on PC, laptops, and mobile phones. It provides you with a plagiarism checker, grammar check, citation generator, text summarizer, and article rewriter.
Editpad.org:
Editpad.org is the text editor that helps you edit all your writing tasks better and more effectively. As it is a free-to-use tool, many students, writers, and others use it to make their assignments, text, and writings high in quality and readability.
It is an online tool that facilitates webmasters, bloggers, and content writers. One can edit, update, save and upload the content. You can know the character count and word count of the content.
Paraphraser.io Vs Editpad.org:
We will be going through head-to-head features to overview both the tools so that we can have a clearer picture of both tools;
1) User Interface:
Paraphraser.io: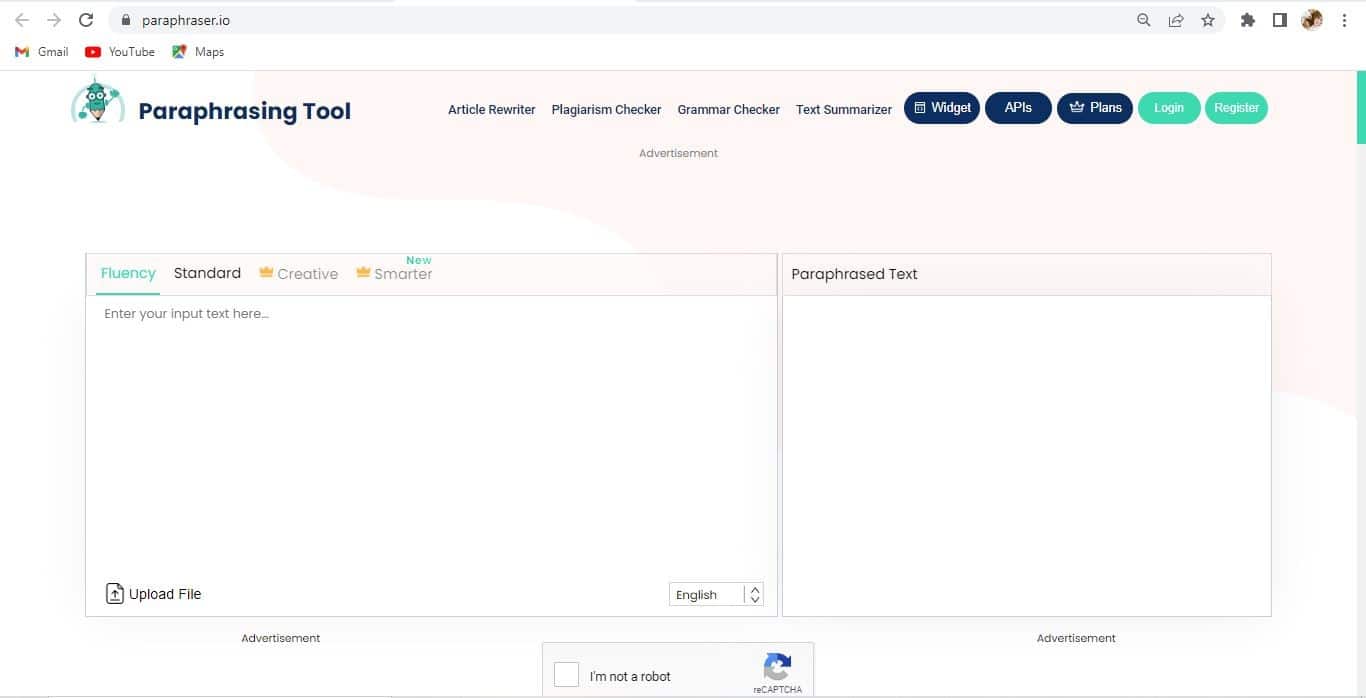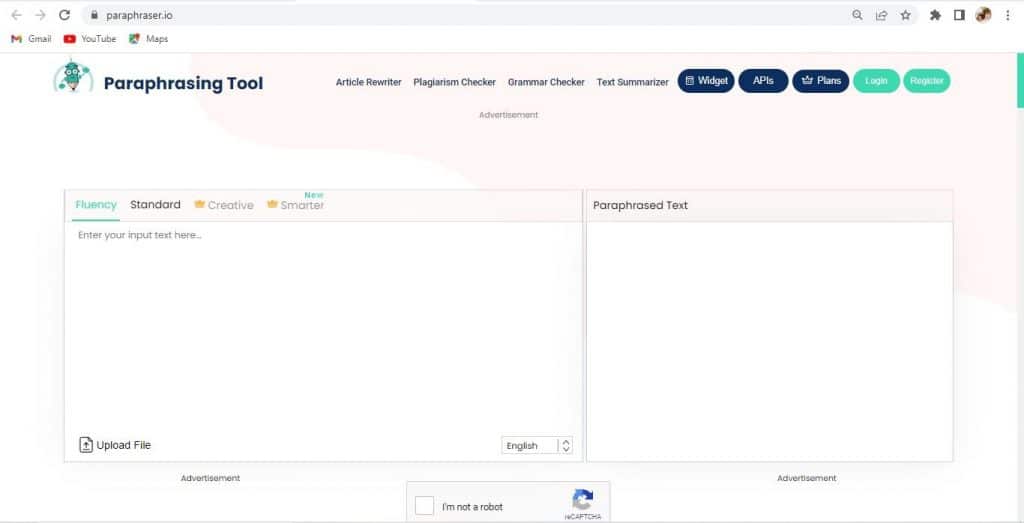 The very first thing once we visit any website what pleases us is the user interface of that particular website. It plays a vital role as it should be eye comforting. If we talk about the theme, it is unique and straightforward, having a cute pink and white color.
Furthermore, you'll find a header at the very top of the website with the logo, and all the features are listed at the top-right of the header.
Here you can see the user interface of Paraphraser.io in the attached image below;
Editpad.org: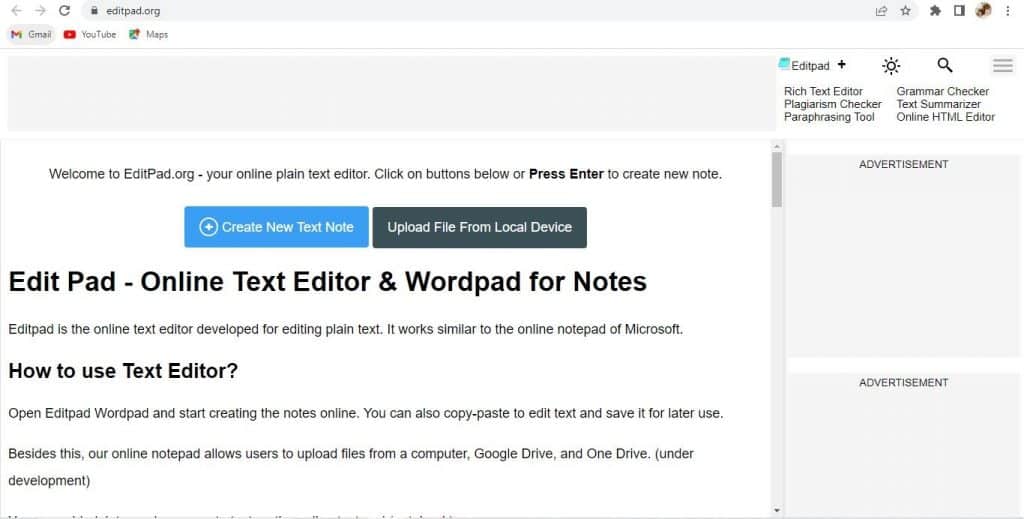 The user interface of Editpad.org is quite simple and unique. Everything is quite prominent and specified. Once you visit the website, you can quickly process things. There is no color theme, making it a dull and primary interface.
2)  Plagiarism Checker:
Paraphraser.io: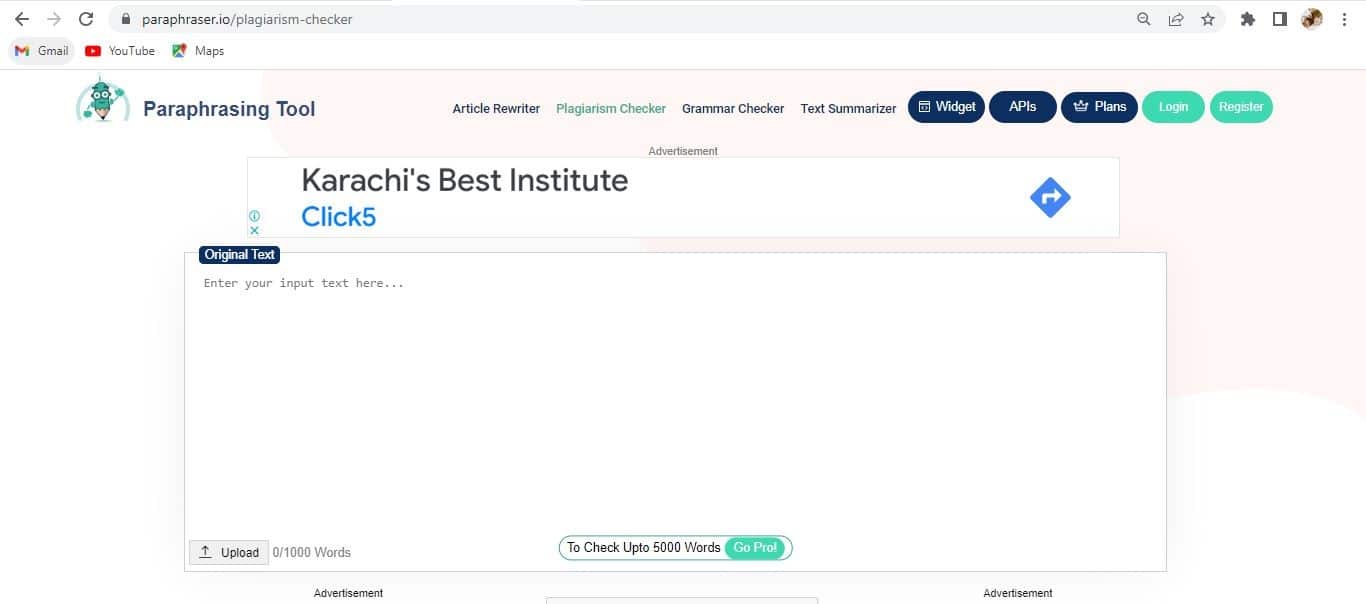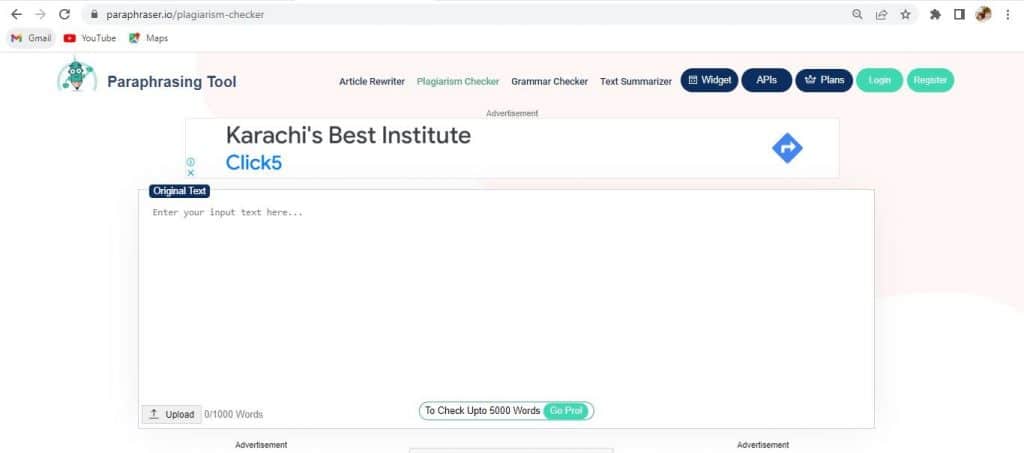 Paraphraser.io works excellently in yet another feature, which is a plagiarism checker. It helps you make your content plagiarism free. It identifies the score of unique and plagiarized content, which is quite challenging to know for so many people.
It supports multiple file formats to upload content. You can paste the text or upload a file to get the results in the insert section.
Free users can check plagiarism for up to 1000 words. If you want to check up to 5000 words, you'll require a pro subscription to the tool.
It takes a few minutes to generate the results.
Editpad.org: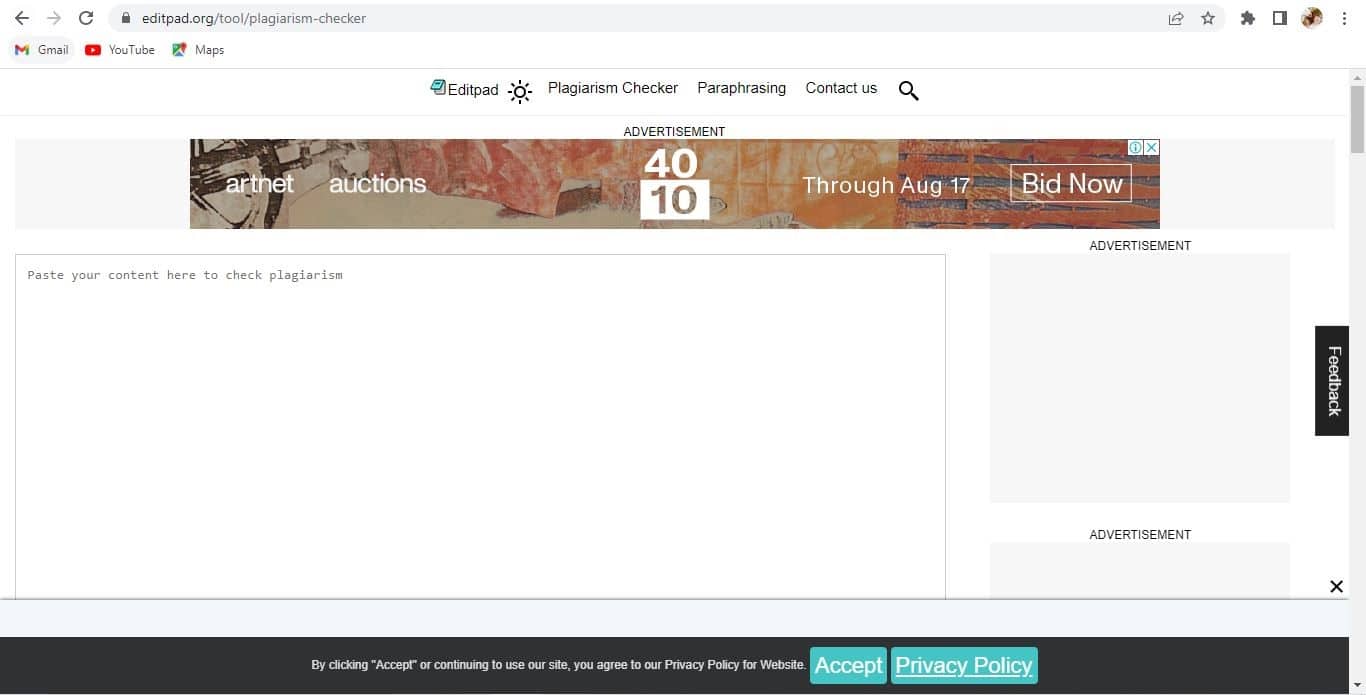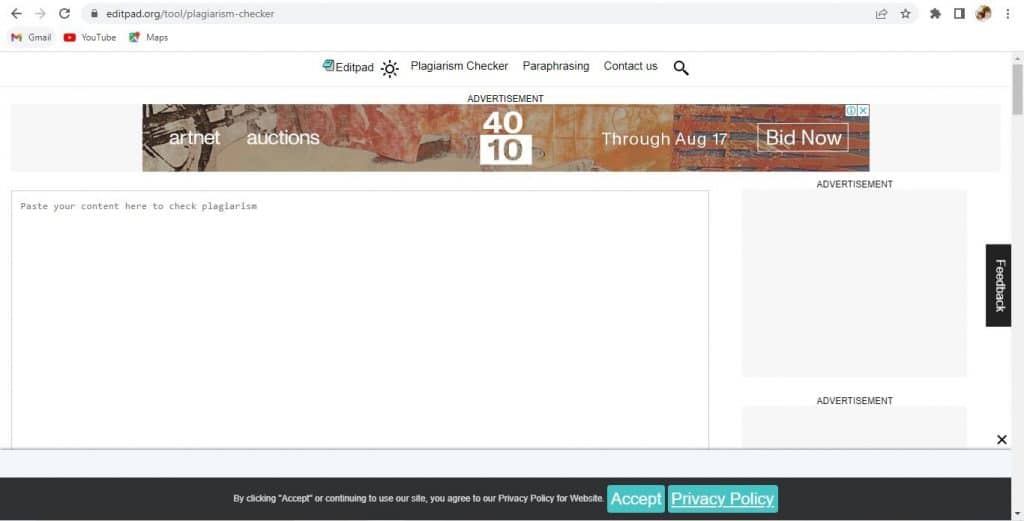 Editpad.org also facilitates you to check plagiarism in your writing. You can write content on Editpad.org, and once you're done, you'll have an option to check plagiarism. It will help you produce plagiarism-free content and writings that boost your website's engagement.
It helps you detect any duplicate content in your text. It generates a quick result; you can also access the plagiarism report using this tool.
It is one of the best plagiarism checker tools that provide multilingual language support.
It takes a few minutes to generate results from numerous web pages.
It gets you a statistical plagiarism report of your content.
It helps show the percentage score to the users and provides the source URL of duplicated content.
3) Paraphrasing Tool:
Paraphraser.io: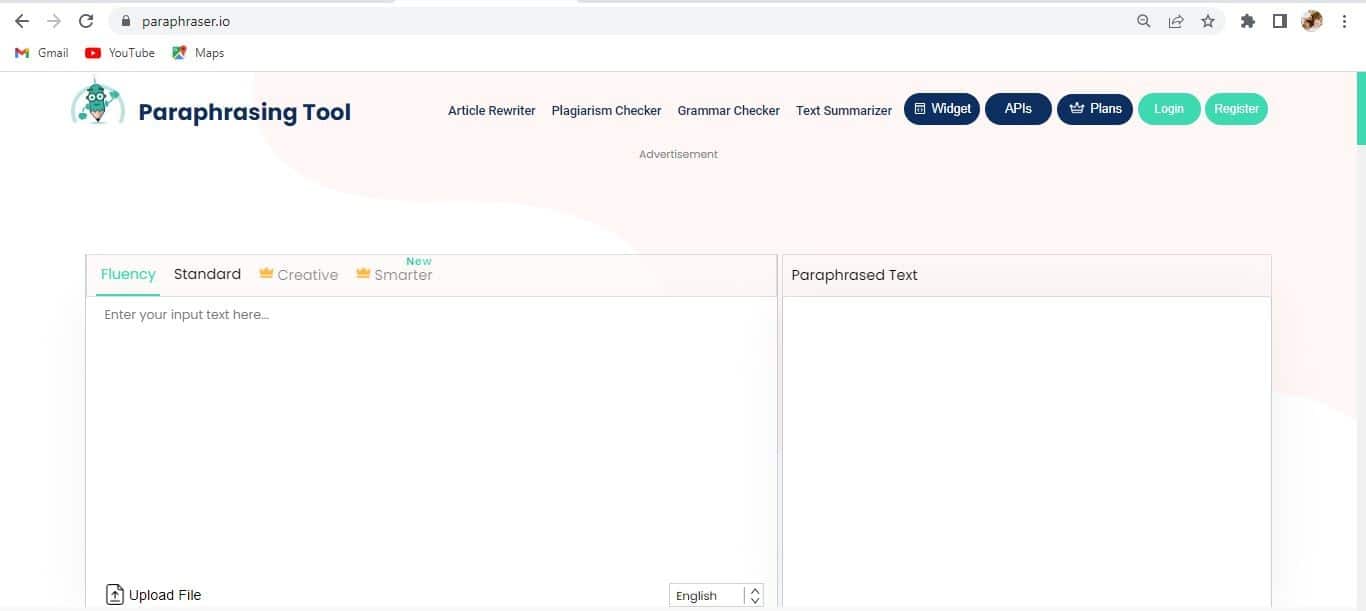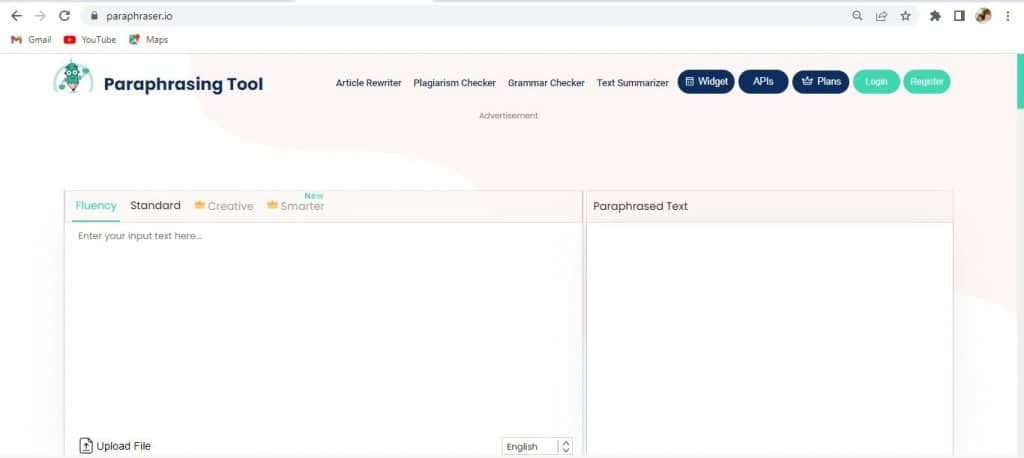 Paraphraser.io also provides an incredible feature of paraphrasing text into high-quality content. The following are the features of the paraphrasing tool;
You can select your desired language to paraphrase the content as it provides you with multiple language support.
One can select any modes: Fluency, Standard (free version), and Smarter, Creative Mode (Premium Version).
Fluency Mode intends to make your content even more fluent. You can access it free of cost.
Standard Mode helps you change the words of your text into better and common synonyms to improve the content quality.
The Creative Mode makes you paraphrase in a way that enhances the creativity of your content.
Smarter Mode adds better synonyms and words to your text. You can access it in the premium version.
Editpad.org: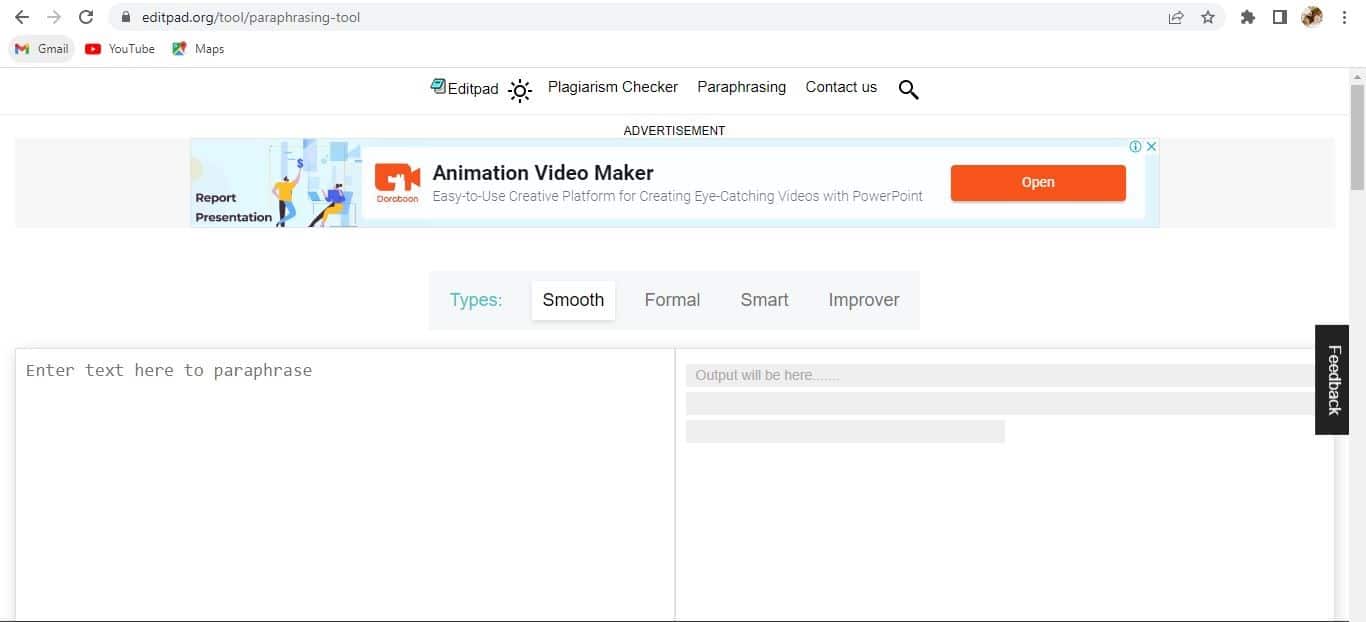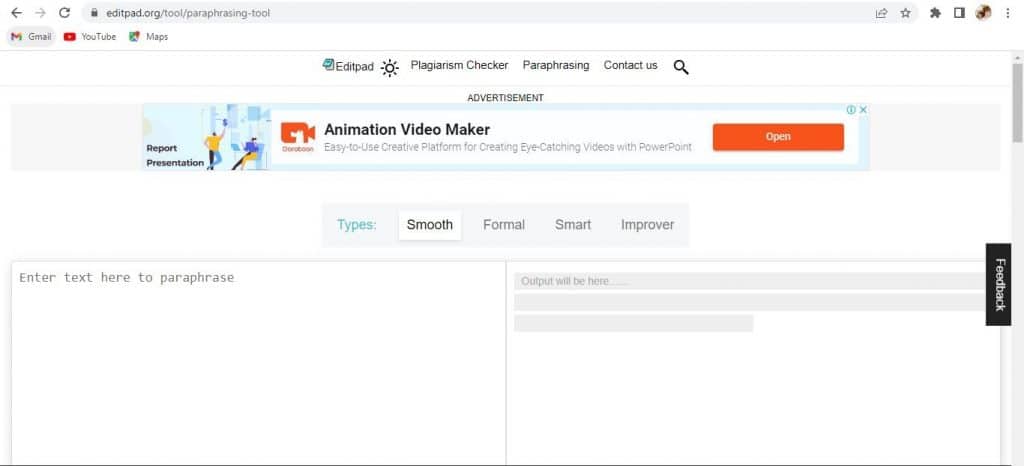 Editpad.org paraphrases your content to enhance the quality and make it more readable. It adds better-sounding synonyms to your text. It is an effective tool that helps you from unwanted rejections. It efficiently processes your content and restructures the content. It keeps the text's original meaning and paraphrases it to quality content without compromise.
It improves word choice according to the writing style of the content. It focuses more on quality to make it readable by the audience. It ensures your content's safety and security by keeping it private and inaccessible to anyone.
You'll find four different content modes to paraphrase your text which include the following;
Smooth Mode for primary and smooth paraphrasing.
Formal Mode for the more formal writing for your content.
Smart Mode for innovative, intelligent, and creative writing.
Improver Mode for improving the quality of the content.
4) Customer Support:
Paraphraser.io:
Paraphraser.io has supportive customer support that helps users resolve their queries quickly. You can contact them through a Contact Us form on their website, where you must give your name, email, and a message/query.
You can report the problem to the provided email if you get stuck somewhere while using the tool. It provides you with adequate customer support so anyone can reach them anytime. They don't have a live chat support feature on their website.
Editpad.org:
Editpad.org has active customer support, which is quite impressive. You can contact them through the Contact Us form, in which you'll fill in the required details and your query's message. Whatever issue you're facing, they fix it in the best possible way.
They value customer satisfaction, making them quickly resolve queries and difficulties. They give attention to every detail.
5) Premium Vs. Free Version:
Paraphraser.io: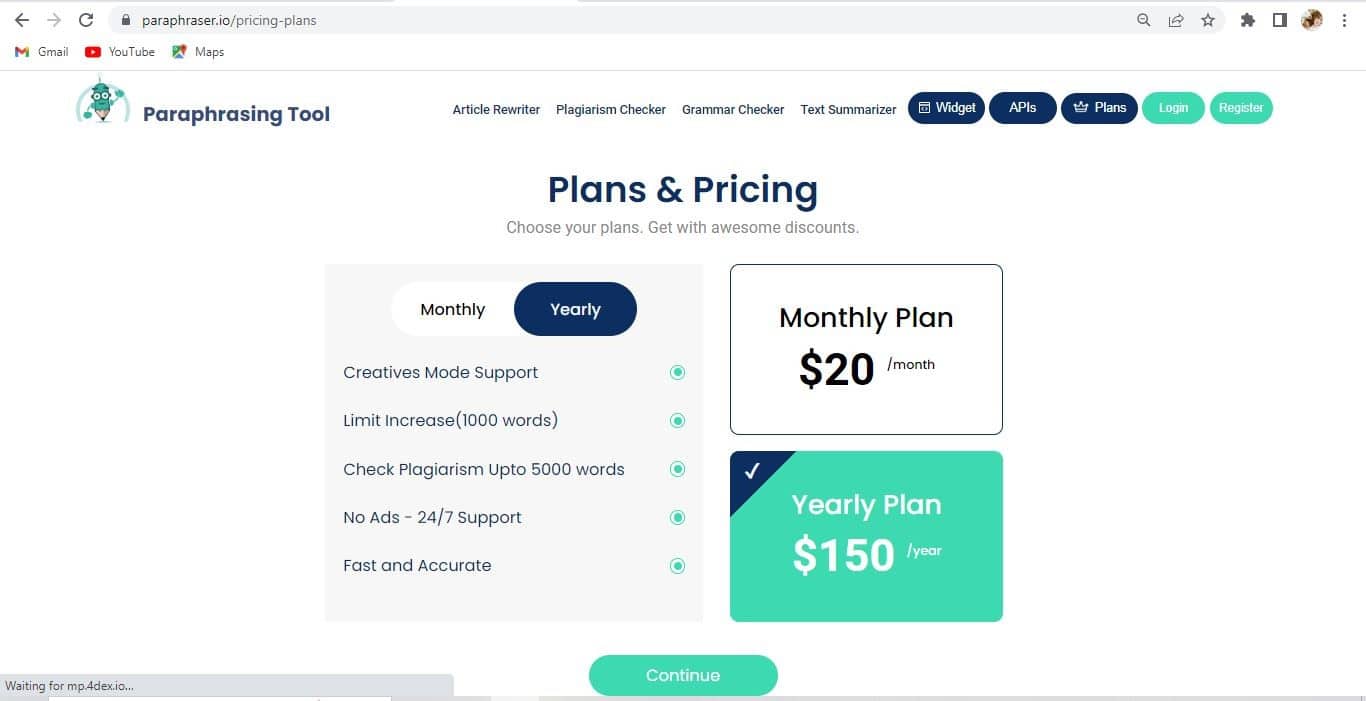 Paraphraser.io is a free tool that you can access anytime, anywhere. Many online tools charge you high subscription fees, giving you nothing in return.
You can use it wisely for your writing purposes without costing anything. If you want to use advanced features, then you can go for a premium version.
Ediptpad.org:
You can use the accessible version of Editpad.org, which gives you access to everything you'll need as a student or writer, or if you're someone professional and want your writings, reports, and study to be high quality and well-organized.
You can use the Editpad.org tool for free; there are no subscriptions and premium versions of this tool.
Wrapping-Up:
Through the head-to-head overview of both the tools, you'll be able to choose which one suits best for you. Both the tools have their features, pros, and cons.
They provide identical features except a few, including the editpad.org extra features, the free version, and the day and night theme. Otherwise, the quality and functions of both tools are pretty similar.