Previously, I considered video editing to be a challenging task. When searching online for videomaker reviews, I discovered FlexClip, a software that claims to simplify the process. First, let's take a look at this FlexClip review in more detail.
What Is FlexClip?
FlexClip is a video editing tool that is designed for beginners.
The software allows you to create spectacular videos in a matter of seconds. FlexClip editor will enable you to create flawless videos by providing hundreds of video templates, motion presets, and a wealth of stock footage.
You do not need to be an expert to create slideshows, video essays, invitations, vlogs, ads, or promotional videos. FlexClip includes all the features you need.
Furthermore, it is a free video editing software. I decided to purchase a Business Plan for this FlexClip review to evaluate its additional features.
FlexClip Features
Using FlexClip, you can create, edit, convert, or compress videos instantly. The program can do the following:
Video Editing Tools
There are multiple sections within the video editing software for different types of editing.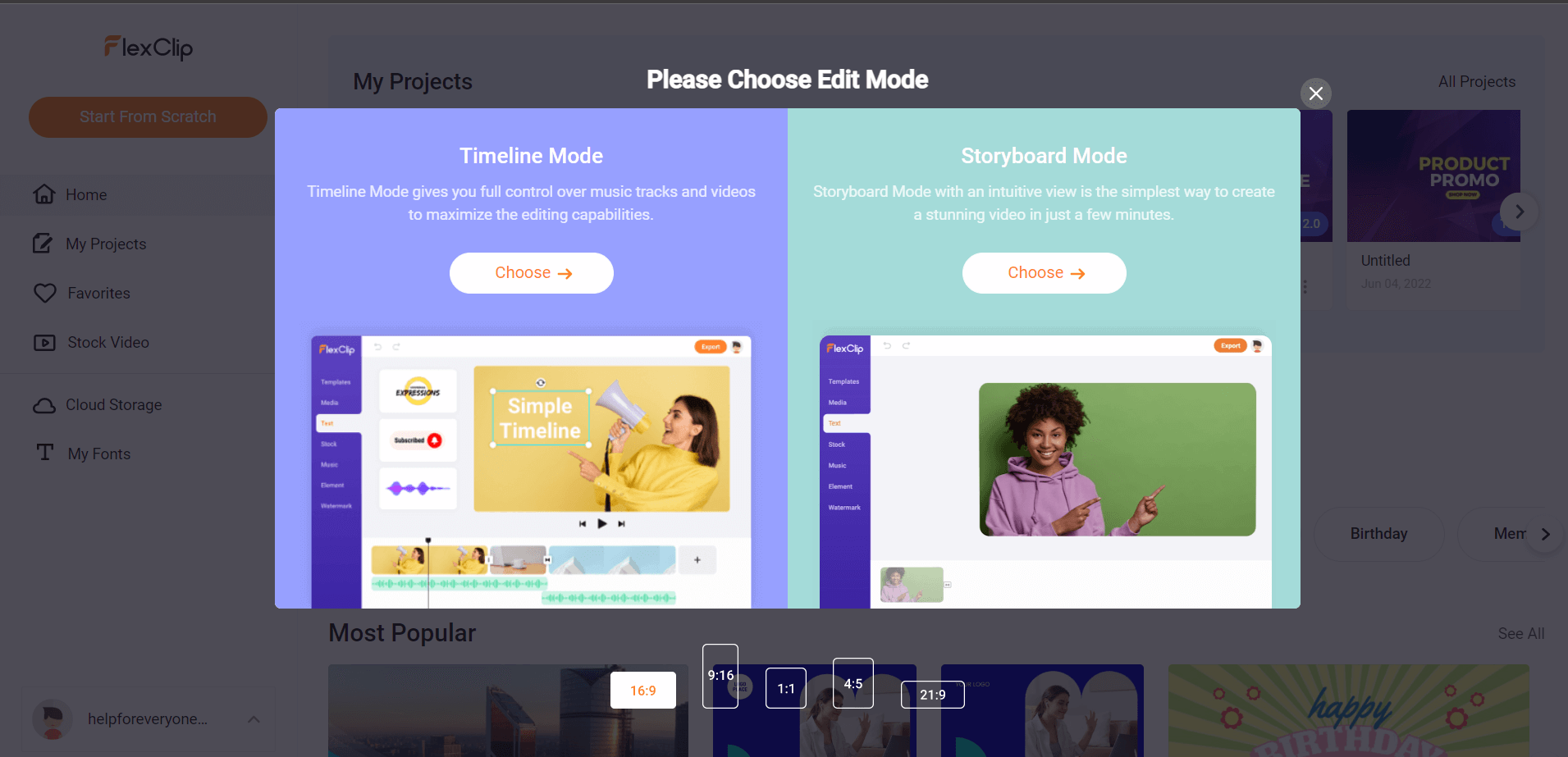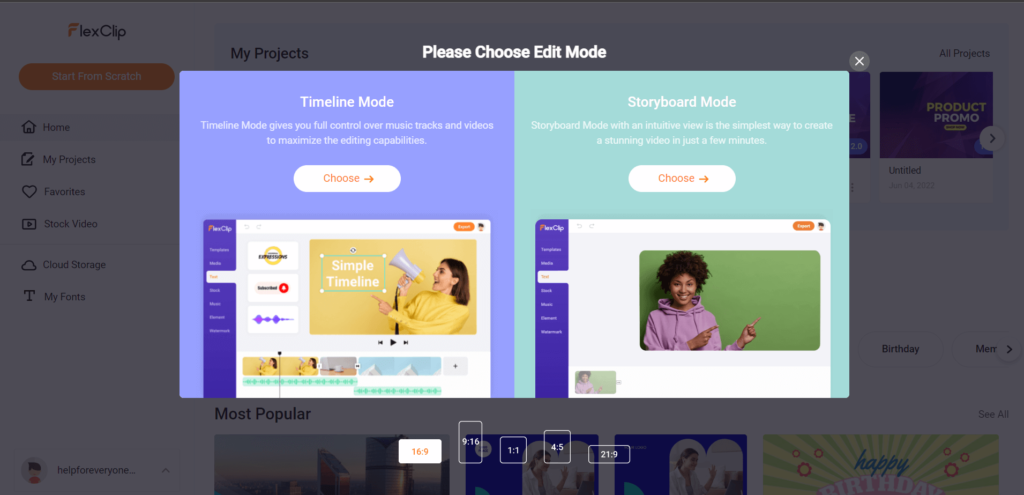 FlexClip Video Maker
The website has a video maker where users can create a video from scratch or choose from a template. It uses a workflow called a storyboard, which utilizes linear video editing.
The imported files can be from your computer, hard drive, or memory card. Additionally, you may access FlexClip's impressive media library.
FlexClip enables you to edit videos quickly and easily. By using drag-and-drop and one-click controls, you can easily insert post-production elements such as text, shapes, transitions, and other special effects into your video. As you can adjust the speed, lighting, and orientation of a video, basic video manipulation is effortless. In particular, you will appreciate its slow-motion and flashforward controls.
After finishing, click on FlexClip export, and you will be able to download your rendered video soon after.
FlexClip Video Trimmer
FlexClip allows you to trim various video portions by simply dragging your cursor over them. The software can use the software to create jump cuts, axial cuts, cutaway cuts, match cuts, smash cuts, parallel cuts, or cross cuts.
FlexClip Video Merger
It has never been easier to merge videos. Your entire film or image collection can be uploaded at once, arranged in sequence, and you are done!
FlexClip Video Converter
Video conversion does not simply involve changing the file format. For those who wish to resize or change video resolution on FlexClip, a FlexClip video enhancer is a helpful tool. There is a choice of custom sizes and shapes suitable for smartphones, tablet computers, and computer screens, and the option to customize them.
You may also use this tool to reduce the resolution of a digital video or photo that is too large.
FlexClip can edit, convert, and compress videos, although somewhat limited. Video and image files can be uploaded and exported in various formats, including MP4, MOV, WAV, M4V, WEBM, JPEG, and PNG.
Royalty-Free Library
In my opinion, as with many FlexClip reviews, there is a generous amount of content available. Consequently, you need not be concerned about a lack of footage for your project. FlexClip offers thousands of free videos, photos, and music that you can use to build your storyboard. All of them are royalty-free, so you can use them in marketing and advertising videos without being concerned about copyright.
FlexClip's dedicated music catalog is also a great draw for Youtubers, as it contains many popular background tracks and is updated regularly.
Motion Graphics
If you wish to embellish your video with special effects, FlexClip can help.
Instead of nonlinear editing systems, FlexClip allows you to quickly and easily add video choreography. Thanks to its motion effect preset and controls, you can include moving texts, shapes, and icons in FlexClip. Transition effects are built into the software and are suitable for slideshows and video presentations.
Ease of Use
The program makes video editing extremely straightforward, even for those without previous experience. I speak from experience, as someone without prior experience with video editing.
Overall, the navigation is intuitive, slick, and modern. The tools and controls were easy to locate and easy to become familiar with. Though the ready-made templates saved me the labor of creating a video from scratch, I still found the "video from scratch" option very appealing.
The library of content is organized into categories, and searching for videos is a simple task.
The FlexClip reviews were correct: it is a simple, straightforward editor that requires only a few minutes to become proficient.
FlexClip Templates
What makes the software so easy to use? There are two words: FlexClip templates. With the video editor, you can edit videos by selecting pre-made video sequences containing instant videos and photos and text compositions, transitions, and effects.
These templates can be categorized into a variety of categories, including:
Personal Video
Whether it is a birthday, a wedding, a baby shower, or a house party, life events cannot be ignored.
If you seek a platform to combine pictures and videos into a memorable video easily, then FlexClip is the right choice. Additionally, it can create video invitations and save the dates.
As it is a beautiful photo slideshow software, FlexClip templates also support travelogues.
Business Video
This automatic video maker can be used to create video pitches, and video resumes. Business templates provided by FlexClip feature relevant stock videos and transitions that can be easily customized.
Social Media Video
The FlexClip social media templates are designed to work with prominent social media platforms, including Facebook, Instagram, TikTok, and YouTube. The videos within each category have been prepared with the perfect dimensions and settings to fit into the feed of a particular social media platform.
You may also be a new vlogger who does not have experience with Premiere Pro or Final Cut Pro, in which case FlexClip will serve as a good YouTube video creator for you. These YouTube templates contain music, transitions, and pop-up icons used by YouTubers. FlexClip's file-sharing options for web streaming make it easy to upload videos directly to YouTube.
Tutorials
FlexClip's How-To and Tutorial templates are perfect for creating educational content. It is simply a matter of inserting your footage and adjusting the template settings. Storyboards are digital graphics created from digital on-screen representations that provide text, images, and icons to enhance your video.
Marketing Video
Most FlexClip reviews agree that FlexClip offers excellent marketing and advertising video templates. Having witnessed it myself, I can confidently state that it meets expectations.
The FlexClip video production tool provides you with a solution to any issues you may encounter when making campaign, promotional, or product launch videos. In addition to freelancers and small business owners, these templates are ideal for interacting with potential clients.
Music Video
In addition to music video templates, flex music video templates offer a quick solution for music videos. Not only are graphics and music included in these templates, but you can also upload your audio.
You can easily add lyrics to songs using FlexClip's lyric video templates. Storyboards contain pre-sequenced text boxes; you need only change the texts.
FlexClip Free vs. Paid
Without comparing the free and paid versions, a FlexClip review would not be complete. As with any video editor, subscriptions unlock additional features.
To compare the two, let's first examine some of their similarities. For example, both versions of FlexClip provide:
A similar range of video templates is available
The same tools and controls are available
The use of cloud-based editing
Downloadable Windows desktop application for offline editing
Both versions of the software meet the requirements for being an influential video editor. However, the free version contains some limitations, for which the paid version compensates:
Video Output Quality
When you use a free version of FlexClip, it can only export videos in 480p SD resolution. Using the paid version, you will be able to download videos in 1080p full-HD resolution.
Project Count
FlexClip's free version is limited to 12 projects. Creating up to 1000 projects per user in the paid versions is possible.
Stock Content Availability
In addition to hundreds of stock photos, videos, and music within its system, FlexClip is one of the few online editing programs offering such a feature. FlexClip reviews all agree that this is one of the most valuable features.
However, you are limited to one stock video per project when using the free version. On the other hand, the highest subscription plan provides unlimited access to all available content.
Video Length
FlexClip has a video duration limit of up to one minute, unlike other professional editing software. At best, you can use it to create ads, teasers, or invitations.
If you require more features, the paid version allows videos to last for up to 30 minutes. It is the ideal option if you are interested in editing short films or vlogging.
Branding
Is there a watermark on FlexClip? There is no FlexClip watermark on either the free or paid versions.
In contrast, the free one has an introductory FlexClip, which you cannot remove without upgrading to the paid version. You may also include a customized watermark as part of the subscription to place your logo or tagline there.
Pricing
It is likely that if you have reached this point, you already know that FlexClip is free of charge. However, there are three paid versions available. Here are the plans you can consider: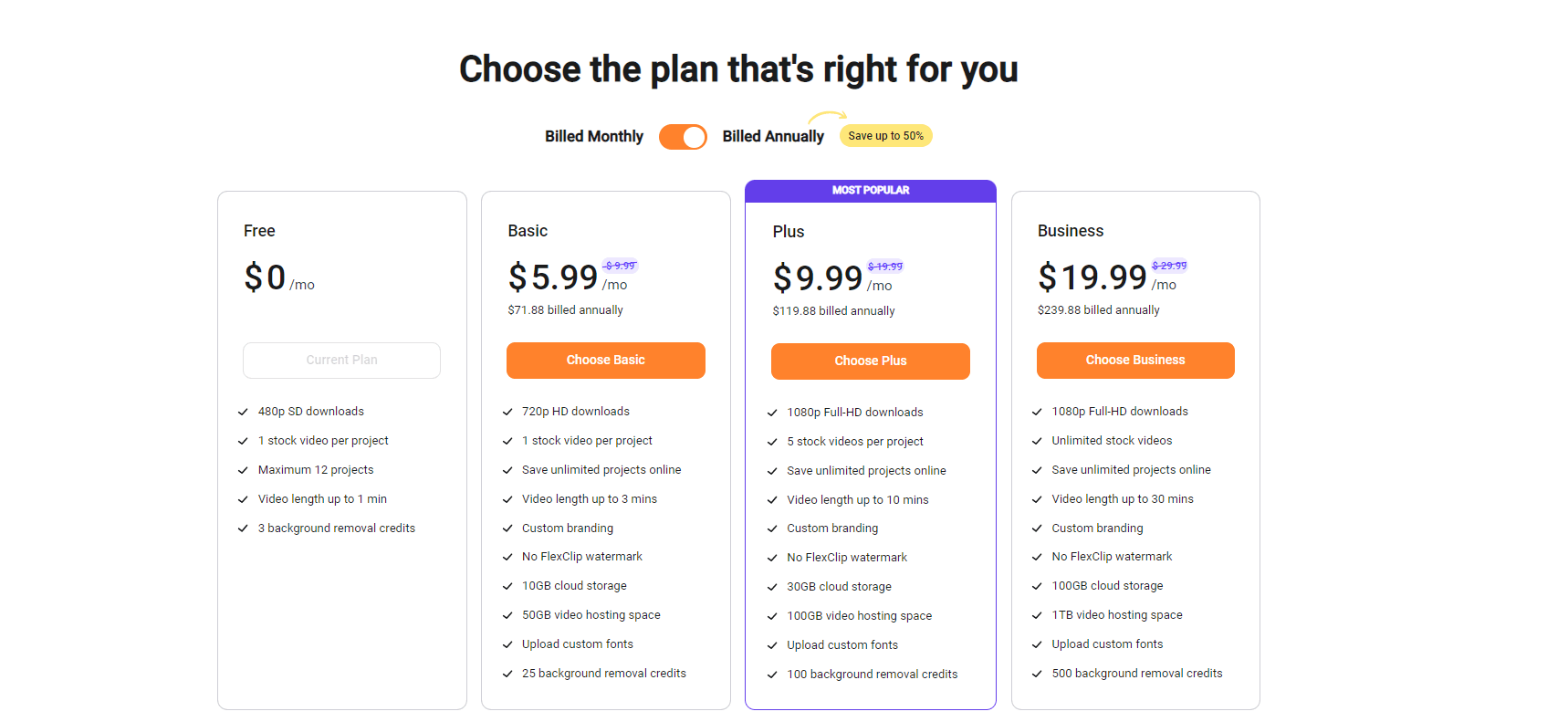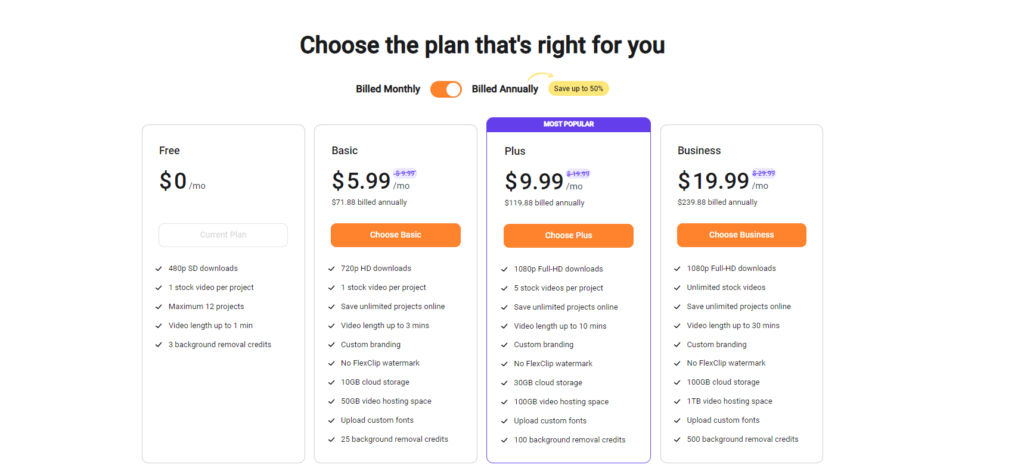 FlexClip has slightly higher pricing than other video editors; however, the annual plans are significantly less expensive. These plans cost half as much as those mentioned above.
No worries if any of the paid subscriptions prove to be unsatisfactory. All FlexClip subscription plans come with a seven-day money-back guarantee.
FlexClip Review – Conclusion
Is FlexClip a good video editor?
This software has highs and lows, just as with any other.
Let us begin with the negative aspects. FlexClip might seem overly simple to an expert editor. It lacks the depth offered by professional video editing applications such as Adobe Premiere and Adobe After Effects. Furthermore, since the video duration is limited, it is unsuitable for producing full-length films or documentaries.
However, FlexClip is an excellent option for novice editors and freelancers.
This is a much better choice than free video editors such as Windows Movie Maker if you search for a basic editing program. It gives you access to additional tools, easy templates, and a large supply of royalty-free material.
Onhaxpk is supported by its users. In the case of purchases made through links on the site, we may earn affiliate commissions. So If you want to buy, then use our link; it will help us review more good products like this one. You can contact me on discord or Facebook page for coupon codes.
Click Here on Flexclip and use the coupon code on the annual plan to get 25% off. Coupon Code: FlexClip25 & PUMPKIN30 For more join Discord.
Flexclip Cookies will Appear in
60 Seconds

				
					Please Do Click 1 Ad When You Visit. Only 1 per day.
Just 1 ad click not more then that. Thanks

Cookie will appear After this window.
Join Telegram: @onhaxpkupdates