User Case: How do I Clone My SSD to a Larger SSD
"My laptop is equipped with a small capacity SSD (256GB); after using it for a period of time, I found that the free space of the SSD is getting less and less and almost exhausted. At the same time, the laptop is getting slower and slower. Therefore, I bought a 1TB SSD to replace my 256GB SSD. I want to transfer everything on my SSD, including the OS, to the new SSD. How can I clone my SSD to a larger SSD? I prefer a simple and safe way to solve the problem; thanks a lot!"
If you are in the same situation described above, the SSD is causing the computer to slow down due to insufficient memory. Well, it's a good idea to clone the SSD to a bigger one. Because this will not only allow you to easily or more storage space but also continue to maintain the better performance of the SSD, you can read on to learn how to clone an SSD to a larger SSD.
The Best Free Way to Clone SSD to Larger SSD
To clone an SSD to a larger SSD, you need free cloning software to help you achieve the goal. The freeware AOMEI Backupper Standard is your best choice. It's very easy to operate, and you can finish the cloning task in just a few steps. What's more, after cloning, you can successfully boot your computer from the cloned SSD. Not only that, but it can also help you how to move program files from C to D.
Sector by sector clone: ​​You can use this feature to clone all partitions on the source disk, whether they are used or not. This feature is only available when the destination disk is larger than or equal to the source disk space.
Intelligent Clone: ​​By default, the intelligent clone feature will only clone the used sectors of the source disk, so it can also easily clone a large disk to a small one if you need.
VSS Service: This software supports VSS service, so your cloning tasks can be performed in the background without closing any applications you use.
Multiple Windows systems: It also supports various operating systems, such as Windows 11, 10, 8.1, 8, 7, XP, Vista, etc.
Clone SSD to Larger SSD Step by Step
In addition to being an excellent cloning software, AOMEI Backupper Standard is also the best backup software. Before you start the cloning process, you need to connect the new SSD to your computer and make sure that your computer can recognize it, and then make a backup of the important files in the target SSD because the contents of the target disk will be erased during the cloning process.
Next, you can download and install this free software and follow the graphic tutorial below to start cloning SSD to a larger one.
Step 1. Open the free disk cloning software and click Clone > Disk Clone.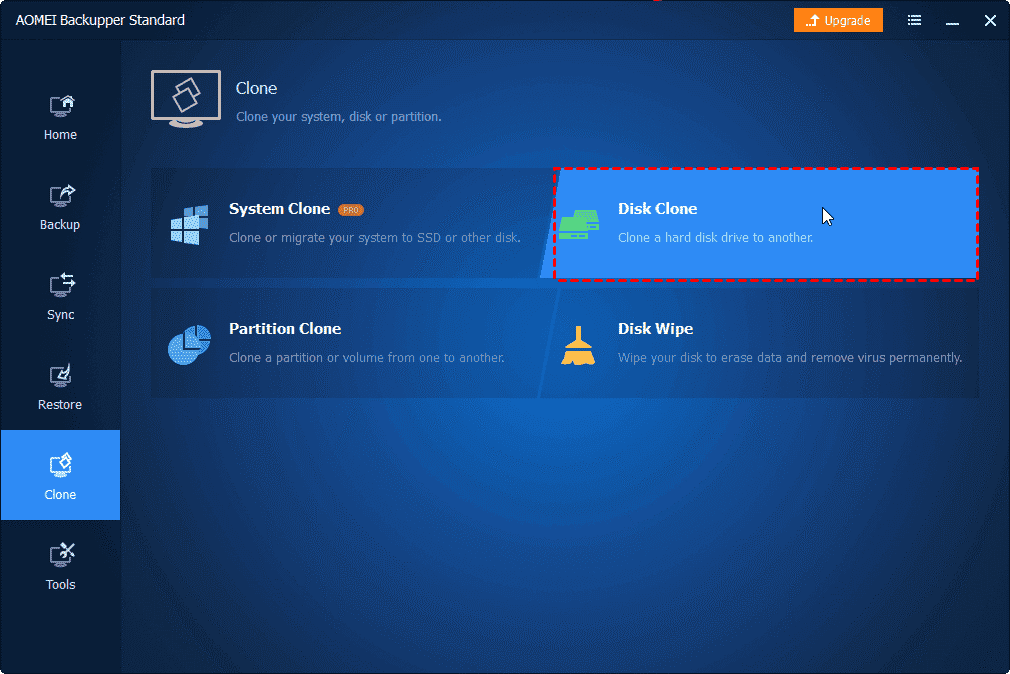 Note:
The free version supports cloning MBR to MBR (system disks) and the data disk. You can upgrade to the Pro version when you need to clone disks between two GPT disks or between GPT and MBR disks.
Step 2. Select your smaller SSD as the source disk and click Next.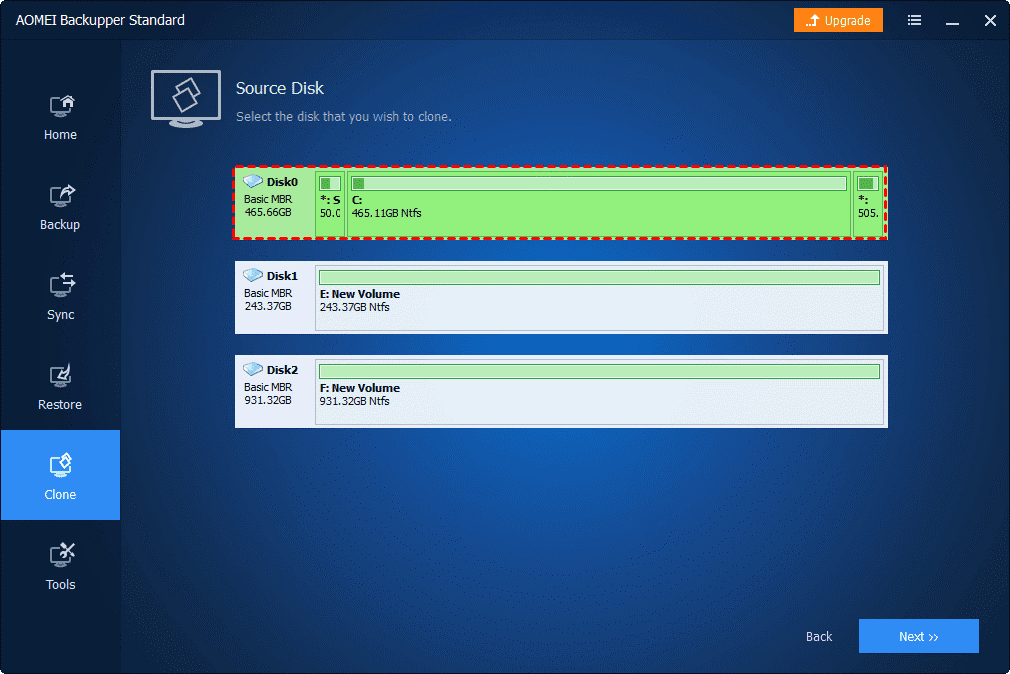 Step 3. Choose the larger SSD as the destination disk and click the Next button.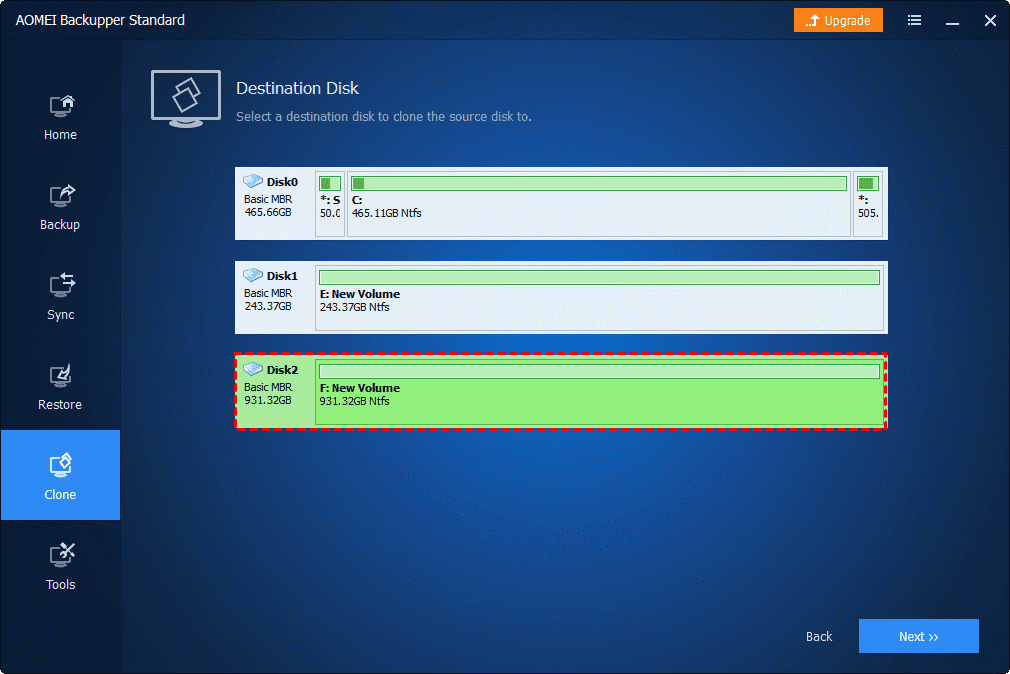 Step 4. Tick SSD Alignment to accelerate the SSD's reading and writing speed. Then click Start Clone to clone the small SSD to a larger SSD.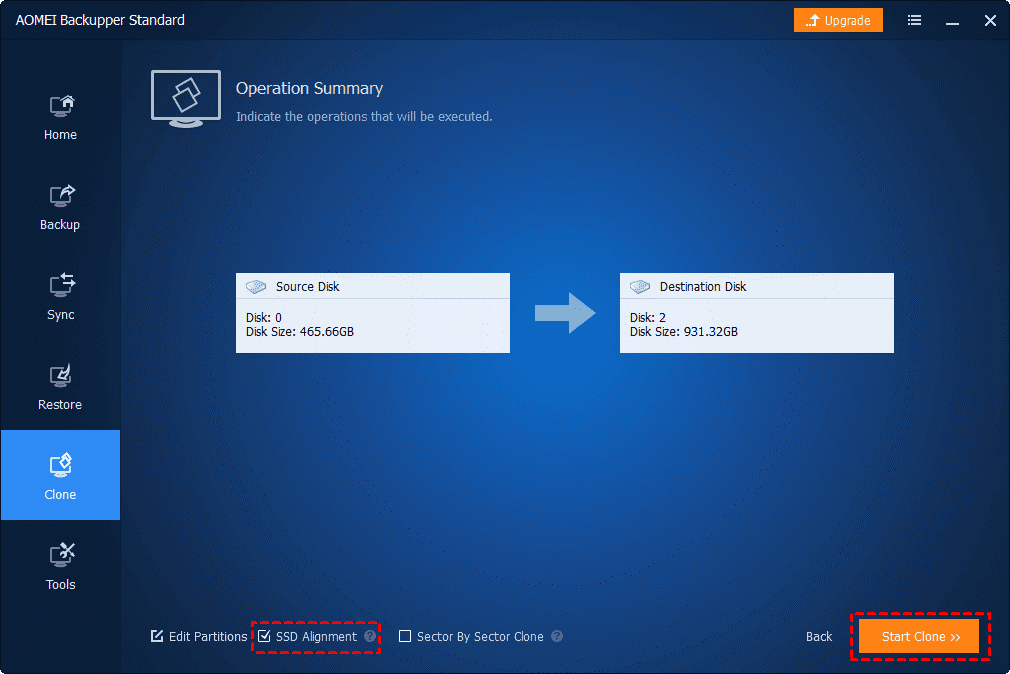 Note:
Edit Partitions: You can change the partition size automatically or manually with this feature. It is available in AOMEI Backupper Professional and higher versions.
Summary
SSDs offer better performance than hard drives, but when you run out of SSD capacity, and your computer runs slow, you can replace your current SSD with a larger one, which will continue to enjoy the excellent performance of SSDs to solve the insufficient space problem.
The free cloning software AOMEI Backupper Standard can help you easily achieve the goal of cloning your SSD to a larger one. Its SSD Alignment can help you let SSDs perform better. After cloning, you can boot your computer directly from the cloned SSD.
Besides, it also provides System Clone and Partition Clone to meet your different cloning needs, allowing you to protect your data in all aspects while being easy to operate. You can download this software to explore more features.