Programming Hub is an app with an extensive course library covering Python, HTML, C++, and many more. Also, on Google Play Store, the app has over 108,000 reviews and a 4.7/5 star rating, as well as an Editors' Choice badge. The Programming Hub has received over 3.6k ratings in the iOS App Store, with a 4.7/5 star rating.
The Programming Hub App is not for me; the teaching method and intro to topics don't appeal to me, as I'll explain later in my review.
However, I have a lot of positive things to say about this software, and it has nailed several elements. There are many free courses and in-depth explanations to choose from, so I propose that you go through this review and, if you believe the app is right for you, give it a try!
Programming Hub Review
I was met with an ad to test out the Pro version as soon as I signed up for the app, which gave me the wrong idea; this app wasn't as money-focused as I expected, but the commercials for their Pro edition did get in the way multiple times.
When I initially saw the webpage, I thought it was a combination of thorough and straightforward.
There is a fantastic range of courses spanning from game creation to web programming and analytics and advertising courses, all while maintaining a basic and user-friendly appearance.
It's a "Programming Hub" in the sense that they have just about every programming language under the sun, and once you've completed a course, you may go on to the intermediate courses for some of them.
There are no leaderboards, daily streaks, or daily reminders in Programming Hub, and there are no other incentive features. And the sole reason to create an account is to store your information and proudly display your name on every certificate.
1) Programming Hub's Interface
The Programming Hub's home bar, which may be easily browsed below, comprises three icons:

Home: To access all the courses, go to the home page.
Learn: Here, you can see your current and finished courses. (Clicking enroll now on the previous home page will allow you to add courses.)
Pro: I can't provide an opinion on this because I don't own the Pro edition; however, I'll update this page if I decide to buy it.
Here's an in-depth look at what I think of each area and what its key goals are:
1.1) Programming Hub's Homepage
Programming Hub's website is simple but functional. It comprises all of the courses as well as upcoming courses; the subheadings are as follows:
Top Trending
Free Courses
New Courses
Digital Marketing
Web Development
Beginner
Advanced
Game Development
Analytics
Hacking
Coming Soon
As you can see, there aren't simply programming classes; there are also Digital Marketing essentials like presenting advertisements, UI/UX, SEO, and more.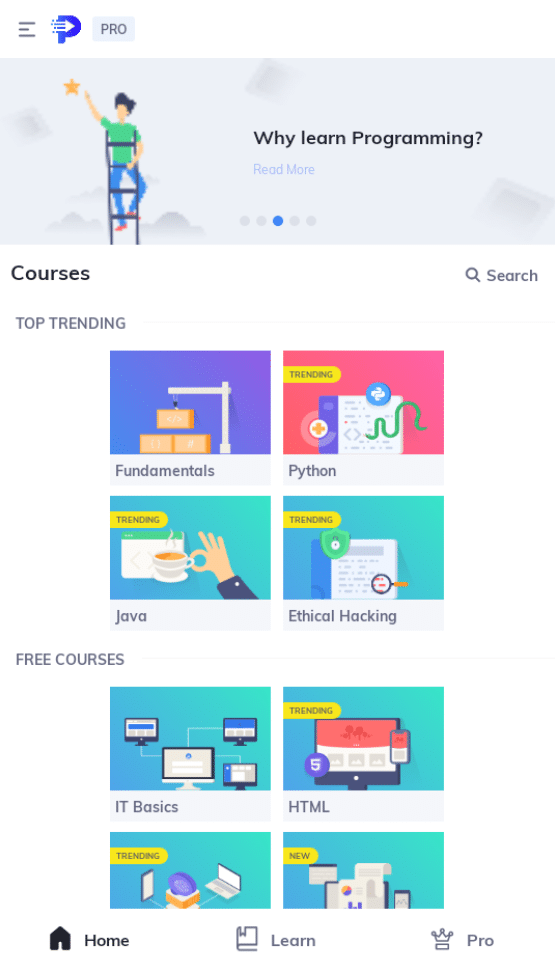 To put it simply, the homepage is essentially just a one-stop-shop for finding courses; there are no projects or challenges here nor in the course itself, which I'll explain why I don't think this is the best system for learning a new subject later under the subheading of the Programming Hub's course interface.
1.2) Programming Hub's Other Interfaces
The home bar is kept bare, with no leaderboards, glossary, or coding playground, since the dictionary, cheat sheet, and coding playground are all included within each course, which simplifies the home bar but makes it more difficult to find each of them fast.
1.3) Programming Hub's Course Interfaces
The course interface contains the majority of the functionality and features. When you click on a course, you'll notice certain sections, such as: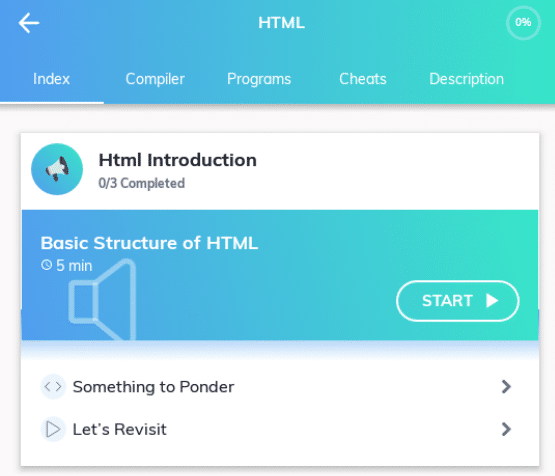 Index: All course materials, including subjects and certificates, are included in the index.
Compiler: Essentially, this is a programming playground.
Programs: This is where you may get ready-made programs for fundamental functions and see what each code produces.
Cheats: This section serves as a vocabulary, with fast definitions, examples, and outputs.
Description: This is where you'll discover information on what you'll study, the course's target audience, benefits, salary, and requirements.
2) My Learning Experience With Programming Hub
Each explanation is meticulously examined to provide the most excellent possible answer to the user while keeping it as short as feasible.
There are additional questions in the form of multiple-choice or clicking the correct code block and questions requiring you to align the code precisely; however, this may vary for various courses since I only tested it for HTML and HTML advanced. As previously said, I prefer that the actual code be typed in more.
Example Question On Programming Hub
The explanations are divided into distinct paragraphs – generally 2-3 paragraphs – and accompanied with cute images to help you grasp it better than other applications.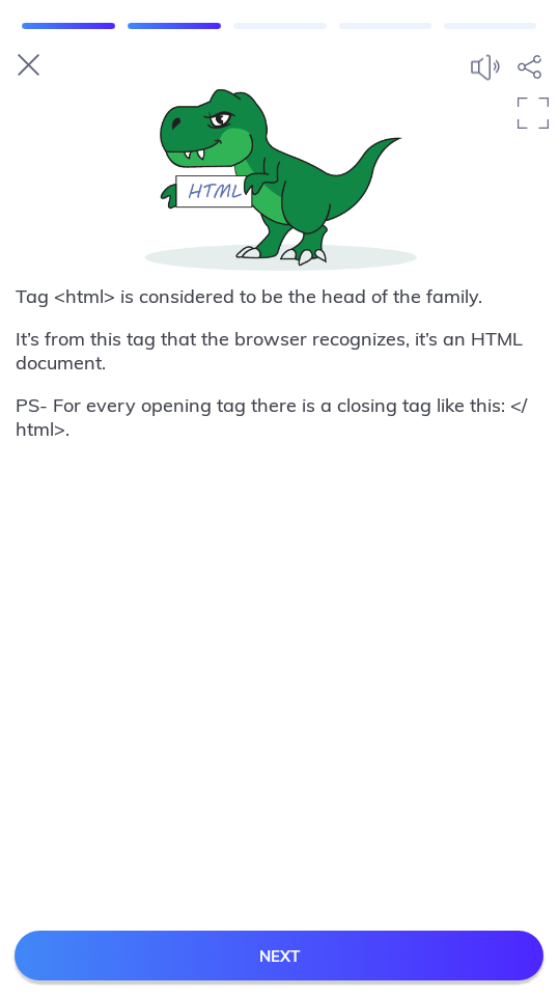 Each topic part also has a chronology. However, the timeline does not indicate whether it is a query or an explanation, making it more challenging to review in the future.
Above all, I believe the Programming Hub app's learning experience has a lot of promise; the explanations are excellent, the presentation is user-friendly, and the fact that I can freely use the coding playground and cheat sheets within each course makes it even better. I would 100% suggest this program if the questions were presented so that the user had to type out the code and if there were challenges and projects introduced halfway through the course.
3) Programming Hub Premium Subscription
The Programming Hub, like other coding apps, has a paid membership option. The following are the prices:
$6.99/Month.
$41.99/Year.
$400/Lifetime – There seems to be an ongoing special offer to get Lifetime for 95% off ($24.99/Lifetime). I'm not sure how long it'll be at this price, but it seems to have been at this price for a while now. Please don't rush to get the deal because it shows a 24-hour countdown; after all, I can't say how long it'll last.
The Pro edition of Programming Hub contains the following capabilities, as described on the Programming Hub app:
Unrestricted All courses are available in their entirety.
All courses are available to you.
Get job Ready – According to Programming Hub, 40% of their customers are more likely to land their ideal job (I assume this is due to the increased availability of courses).
Upon completion of the course, you'll receive 30+ validated certifications.
Premium course updates are only available to Premium members.
The primary reason I would consider getting the Pro edition, which is valid for everyone, is access to the courses.
The bulk of the introductory courses in Programming Hub, such as HTML, are free to access, but you'll have to purchase the Pro edition to completely unlock the more advanced courses.
I can't offer a thorough assessment of the Pro subscription because I don't have one, but I'll update my review if I get one in the future. But, based on what I've seen, spending around $9/month or $33/Lifetime doesn't sound that awful, especially given you receive access to digital marketing courses such as SEO, Google Display Ads, and more, which will be quite useful if you're beginning an online business.
What I Liked & Disliked About Programming Hub
What I Liked
There are several free online courses available.

Premium subscriptions are available for a lifetime, ideal if you despise being charged monthly.

You don't just have access to coding classes; you also have access to digital marketing, analytics, and various other courses to help you get started in your profession.
Basic artwork and layout style – what appeals to me the most is the simple artwork and layout style.
What I Disliked
There are no incentive elements, such as a leaderboard, a daily streak, or a current scorestreak.
Questions could be tweaked to include inputting the code rather than just clicking on multiple-choice questions and code blocks.
FAQ's:
Is the Programming Hub certificate valid?
Yes, All Certificates Have unique ID numbers, indicating that they are legit and cannot be duplicated.
Programming Hub Review Summary
I suggest the Programming Hub app to students who need a solid explanation, but you won't have the most critical questions. You'll have to use the compiler (aka the coding playground) to test your abilities on occasion because the app doesn't have any questions that need you to enter the code (at least for the courses that I tried, HTML and HTML advanced).